What's it like to not have to commute to work, to earn your bread and butter in a workshop at the back of your house? Andy Poplar of [vinegar & brown paper] tells us about his own little nook where he etches vintage glass, his typewriter that doesn't work and his Bakelite phone that never rings.
I'm eight years old and in my grandad's sun-filled workshop. Rows of shelves with screws in tins, neatly labelled jars sat in lines. Tools hanging from hooks. Racks of salvaged wood. Saws piled on nails. Dismantled machines, dismantled furniture. Nothing thrown away, everything to hand. The smell of grease, wax, polish, paint, possibilities.
I'm 39 now and when I sit in my own studio I experience exactly the same sensations. Yes, I know how lucky I am. I've been working as [vinegar & brown paper] for nearly three years. Last December we moved to a bigger house that had a workshop to the rear and I've spent the last few months making it my own.
I'm well aware that the studio is really just the inside of my head poured into a room. Four walls filled with things I've picked up along the way, fuelled by obsessions that I can trace back to being a teenager. A place I can be who I am.
I have my favourite acquisitions; there's usually a story attached. The inspection lamp that hangs from the ceiling is the the one my dad used to use when fixing his car. The no longer working espresso machine is the one I bought with the money I received for winning some New York advertising. (You can find metaphor in everything if you look hard enough).
I spend my days working at a desk with a Remington typewriter and a 1940s Bakelite telephone on it. The phone will never ring, the ink on the typewriter ribbon has long faded out – but there they sit – one a stand for my iPhone, the other used for holding paper. New ways of looking at old things – it's a theme in all my work I guess.
On a typical day, I start off doing some design work or going through my emails in the office, then come outside to the studio at around 10.30am. 6Music will provide a suitably eclectic soundtrack as I work through till 12.30pm. A quick lunch, then back to the studio until 4 when I'll hurriedly tidy up the house before my wife and daughter return from school.
In the evening I come back out and work for a couple more hours. This is my favourite time to be there. We live in the countryside so it's deathly quiet and pitch black outside the studio window. And there I sit. Ryan Adams or Josh Ritter, Aimee Mann or Fionn Regan on rotation as I work into the night on orders. Sometimes, when I've finished all I need to do for the day, I just sit there and look and smile.
I know this probably can't last and I don't really know how it happened, but as I find myself sat in my studio on the verge of turning 40, I can't help but feel that right now, I'm somehow winning.
There's a quote from Chuck Palahniuk that goes: "The goal isn't to live forever, the goal is to create something that will." Which I guess sums things up for me at the moment. My biggest hope is that in a long, long time from now my daughter will pick up a piece of [vinegar & brown paper] etched glass and remember how it felt to be inside her dad's studio when she was a kid.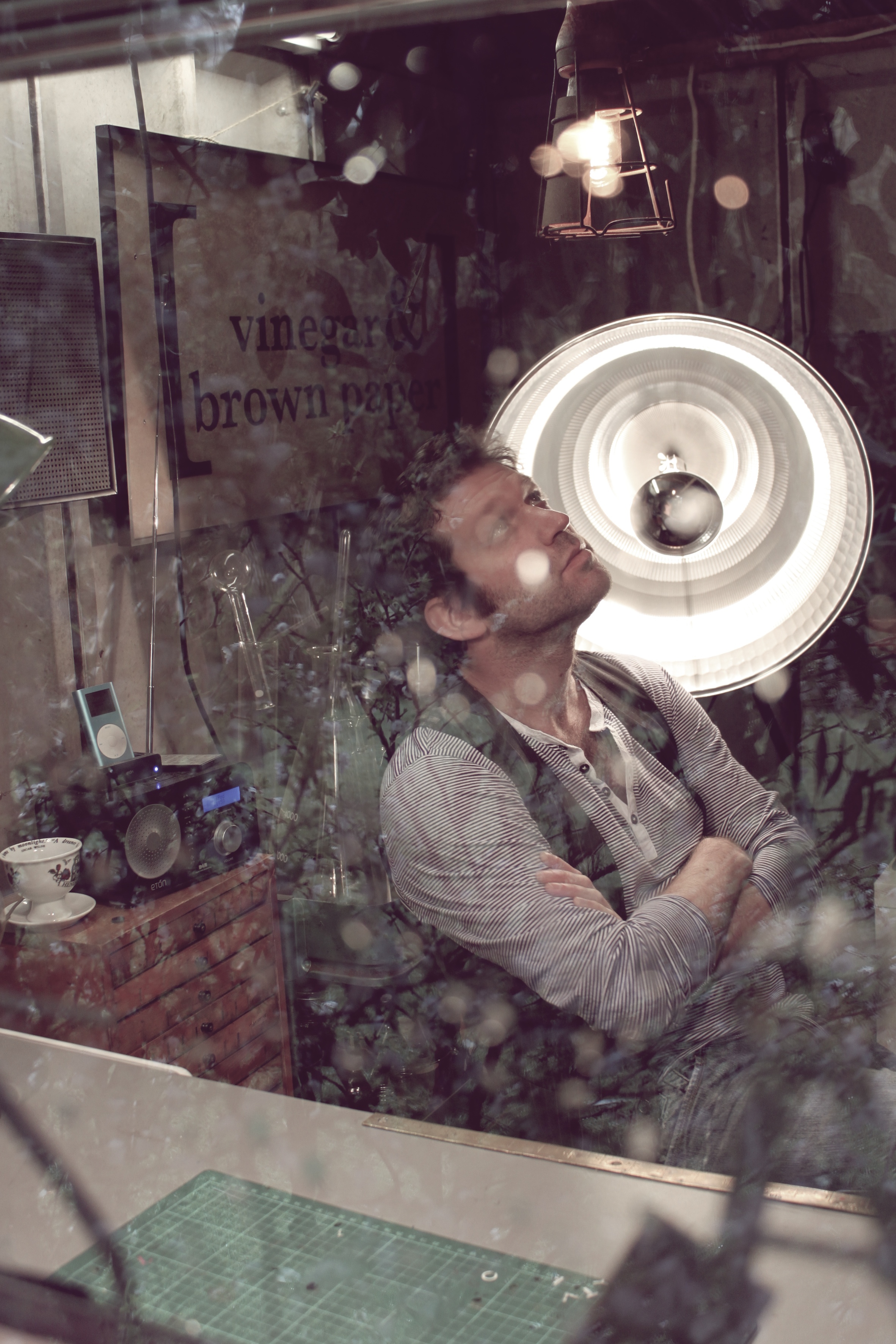 Do you have an awesome workshop or office space? Do you work and craft from your shed, summer house, caravan, attic or garage? Get in touch. To see more drool-some and inspirational work spaces, buy issue 1 of Ernest, on sale now.